Here are the three P's of Home Sales. Experience shows that though this is only one of the many parts of selling a house, it is an important part to attain top dollar and a quick sale. Gone are the days when we looked in the paper for homes to purchase. Today 94% of home buyers start the purchasing process by looking for homes online. Thus a wise home seller will want to follow these three P's as closely as possible. We will talk about these when we meet in person, but since it is a lot to go over, let's get you a head start.
Preparation
When selling any home, the first thing you must do is prepare it to be marketed to and viewed by potential buyers. That means repairs, staging, and cleanliness. In general, most sellers are expecting the conversation about repairs in some way or another, so let's start with that.Though this may very well not be the favorite subject, we will have to address it as we inspect your house together. It is very important that everything is repaired, professionally staged and clean in order for you to net the most money from the sale of your house. As we go through this when we meet, you will see the difference in a staged vs a non-staged home and you can easily see for yourself why this is important. Obviously cleanliness is of just as much importance. I do recommend to have your house professionally cleaned after the staging is done. Take a look at the statistics and you will see that it does make sense to stage your house (click on the link below). Please be advised that the person I recommend for staging charges less than what is stated in the article.
Price
By the time we meet, I will have spend between two and three hours to prepare an in-depth market analysis for your house, so we can discuss what the market will bear for your house.
There is a danger of not pricing your house correctly. You don't want your house priced out of the market and you certainly don't want your house in "limbo-land", where your house just sits and has some people looking at it but nothing really happens. Here "Limbo" represents homes that are ill prepared and slightly overpriced.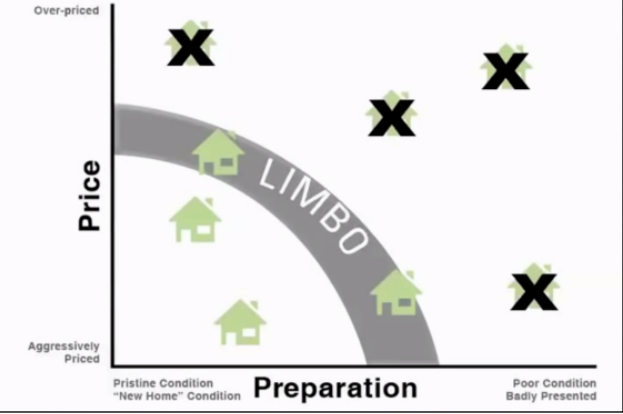 Promotion
I have a multi-phase campaign that's broken into two parts: pre-MLS marketing and post-listing marketing. For the pre-MLS campaign, I will tell you how I will utilize SEO so your home will show up on the first page of Google results, show you the blog posts I write to promote your property and much more.
If you would like to explore the possibility of selling your house, contact us with the form below.
Are you curious what your house value might be?